We live in a day and age where our lives our dominated by choices. We wake up, decide where to get our coffee, what to eat for lunch, what to watch on TV, where to get our haircut, etc. When it comes to denim, we're blessed with luxury of a few dozen purchase-worthy brands. Take your pick:
Baldwin
,
Rogue Territory
,
Tellason
,
Left Field
,
A.P.C.
,
Kicking Mule Workshop
,
Imogene + Willie
,
Apolis
and so on and so forth. It's a little crazy to think that when we turn back the clock a few decades, this vast sea of quality constructed jeans is reduced to just one stand-out brand. I think you know where I'm going with this. Levi Strauss and Co. has been the king of denim since they started churning out their signature 501's at the turn of the 20th century. And there's no garment more iconic in the gritty subcultures of America than the Trucker jacket. Just because we live our lives in the indigo of a new brand doesn't mean we have to forget who invented the wheel.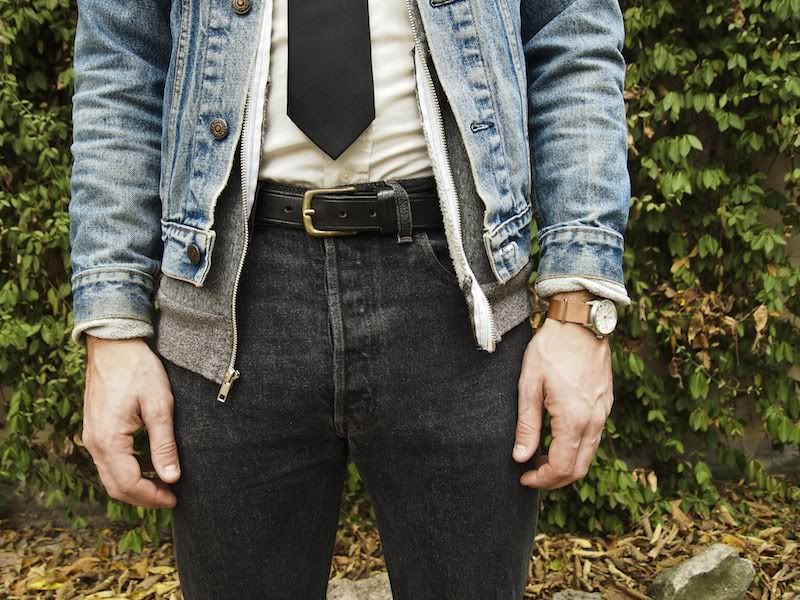 These black 501s were my Dad's. They're some of my favorite jeans in terms of fit. They're a straight leg that's slim through the thigh and they have a higher rise that sits at my hips. That is, of course, where pants are supposed to sit. Not that a low rise is bad. It's just a little less natural, in terms of your body's dimensions. Your legs begin at your hips. Conversely, that's where your torso ends. Dropping the rise means that we're visually elongating our torso, thus shortening the appearance of our legs. For some, that's the desired effect. Other times, it can look goofy. It's a subtle thing, but hey, life is in the details.
Something about a black tie makes a man feel alive. Not to mention, a man's best accessory is always his facial hair. Or if you don't have any, I guess your best accessory is your awesome personality, or something like that.
Levi's branding is spot on. And it looks even better after a few decades of wear and tear. The jacket was an eBay acquisition. Note: half of my closet is comprised of eBay acquisitions. Also, the presence of white tube socks denotes #swag.
On Cameron: vintage Trucker jacket by Levi's; heather hoody by American Apparel; vintage white OCBD by Gant; black tie by J.Crew; black leather belt (stolen from dad); old black 501s (stolen from dad) by Levi's; military watch by Timex for J.Crew; black PTBs by Florsheim Imperial.